About Liza Shibata
Liza Shibata is a licensed acupuncturist in Victoria BC Canada. She received a three year diploma from the Canadian College of Acupuncture and Oriental Medicine in 2002. She uses her knowledge of acupuncture, western herbs, reiki and therapeutic massage to facilitate holistic healing. Liza completed training in Japanese style acupuncture in 2008 and has a certificate with the Japanese Acupuncture Institute of Seattle. This program includes Meridian Therapy, Japanese Acupuncture using Ion Pumping cords and Shonishin Pediatric Acupuncture.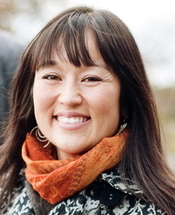 Liza is passionate about working with woman's issues, obstetrics and pediatrics, she has also completed specialized courses with Jean Levesque , Jane Littleton and Brenda Loew. Liza is currently a member of the Canadian Association of Obstetrical Medicine and CTCMA.
Liza helps parents-to-be through achieving pregnancy, treatments to prepare for  labour, and postpartum care for mom and infant. When Liza was a practicing doula, her nurturing abilities helped her while  working with families in the hospital as well as home births.
A skilled public speaker, she is currently developing lectures that explain Chinese medicine to lay people. To invite Liza to speak at your next professional function phone her at (250) 884-9653 or by email:
Liza@sacredmeridian.com
Acupuncture can benefit you whether you have a health concern or not. If you are feeling out of sorts, experiencing difficulties at work, or frustrations in a relationship acupuncture can help you cope better.
Treatments are relaxing, incorporating massage in a soothing, comforting atmosphere.